Have you ever wanted to hire an interior decorator, but not really known what to ask or how to go about? Don't know what to expect?
First, we meet with you to determine your needs. How can we help you?
Next, we discuss the space. How is the space used? Who uses it? Kids? Adults? Entertaining? Homework? Reading?
We also discuss budget. How much do you want to spend? Please don't be typically Canadian, and say, "well, you know. . . we hadn't really thought about it". Chances are, by the time you get around to engaging a interior decorator, you have thought about what you want, and what your budget is. Please, please share this information with us. It helps us determine where to source, and what type of suggestions we make.
Then we measure, so we know just what we are dealing with.
Finally, we disappear into our little rabbit hole of design, and emerge 3-4 weeks (and many mugs of coffee) later, with a design boards. These boards include a variety of looks, including furniture list, dimensions, and prices.
Then, you have homework. Go, touch, see, feel, sit. Not all couches are made the same and it is important that you take the time to look at the options in person.
After you have decided on which route you want take, and you have some feedback for us, we will do a round of revisions on the boards. We have listened to your feedback, distilled down the ideas (it's an organic, collaborative process, really) and come back to you with the final set of boards. From here, you can go shopping yourself, or engage us to do the ordering for you.
Curious about how it all shapes out? Check out these design boards for a living, dining and den, and see how the looks evolved.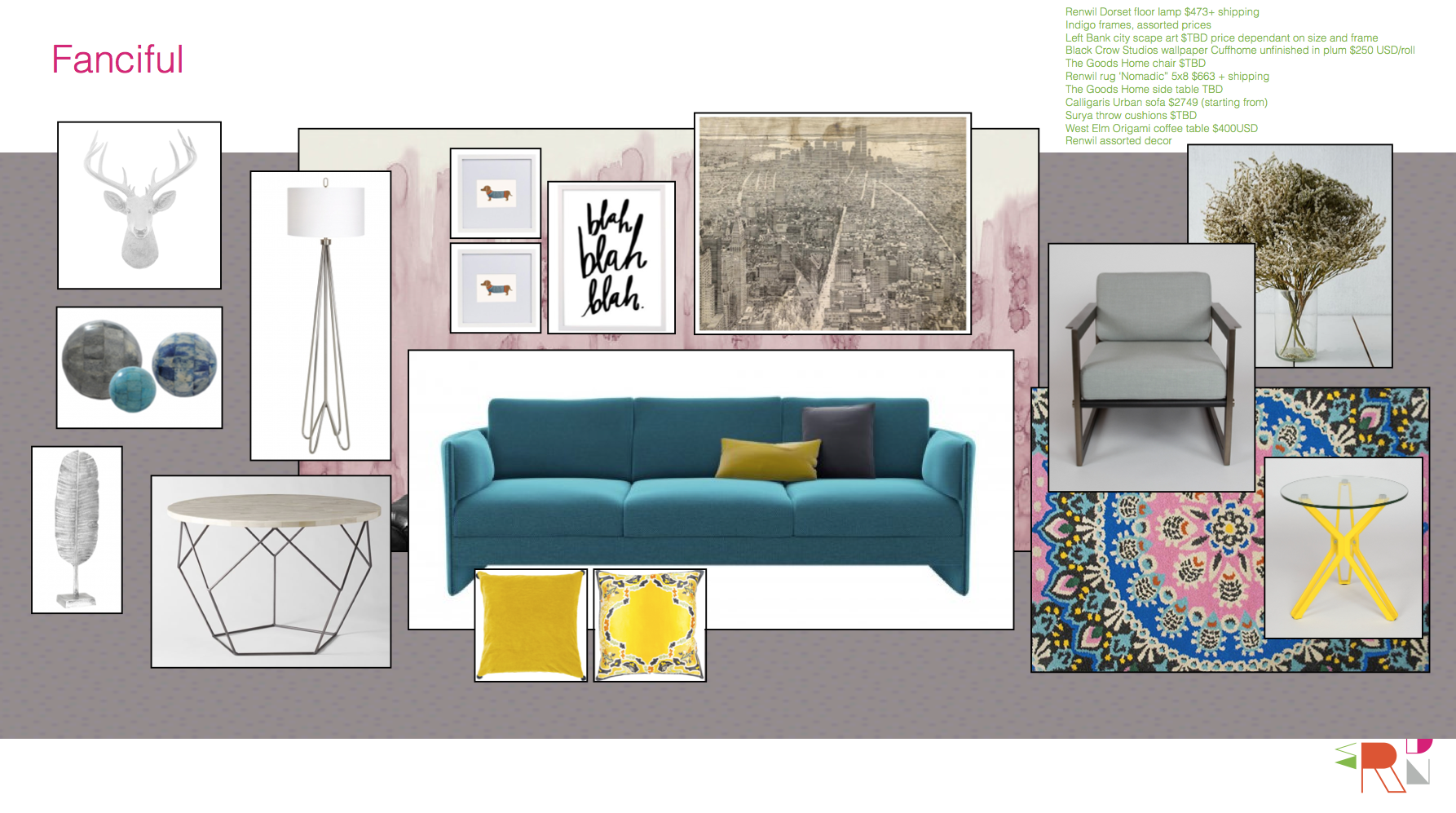 The client loved the eclectic look, with a touch of fancy, and so we ran with that. We revised the boards, presented again, and went forward with a firm design plan.
The end result is stunning! We love working with clients who are passionate about design, and run with us to explore unexpected combinations and whimsical design.